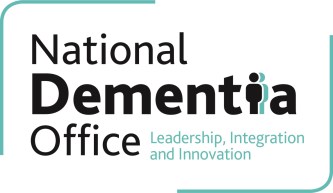 The National Dementia Office (NDO) was established in 2015 in accordance with the launch of the National Dementia Strategy (2014). The NDO provides leadership at a system level for the implementation of the strategy. Its role and function is to oversee the implementation, monitoring, and ongoing evaluation of the National Dementia Strategy.
The NDO is established under the remit of the National Social Care Division HSE.
Our Vision
Our vision is that people with dementia and their family carers receive the supports and services they need to fulfil their potential and to maintain their identity, resilience and dignity as valued and active citizens in society.
Our mission is to transform the dementia landscape in Ireland by:
Providing leadership for the implementation of the DOH National Dementia Strategy and the HSE Reform Programme, so that people with dementia can live well, can have services and supports delivered in the best way possible and can ultimately die with comfort and dignity.
Working collaboratively with staff across HSE Divisions/ NGOS/ Private /Voluntary services to ensure effective roll-out of the National Dementia Strategy implementation plan, creating an inter-connected approach to identification of programme solutions, service delivery, education and public information.
Influencing policy and practice in dementia care in Ireland; advocating for an evidence-based, progressive approach to the development and provision of dementia services and supports.
Raising awareness and increasing understanding of dementia and related risk factors; empowering people living with dementia, their family carers, communities and those working in dementia care.
Our Values
The values that will guide the NDO in all its activities and interactions in realising its mission are: Professionalism and Accountability, Dignity, Respect, Compassion, Collaboration and Partnership, Empowerment and a Rights-Based Approach.
Meet the Team
Paul Maloney
In February 2023, Paul joined the National Dementia Services team as Programme Manager. Paul originally qualified as an Occupational Therapist from the University of Salford, Greater Manchester in 2006 where he then joined Beaumont Hospital as a Staff Grade Occupational Therapist. In 2010 he commenced his role as Senior Occupational Therapist in Care of the Elderly at St Joseph's Rehabilitation Unit. He has worked in all areas under the Care of the Elderly umbrella at Beaumont Hospital including the acute setting, rehabilitation and day hospital. He was the Clinical Specialist Occupational Therapist in Care of the Elderly between 2015 and 2017 and was primarily based in Beaumont Hospital's Emergency Department as part of the award winning Frail Intervention Therapy Team (FIT Team). He has been a member of the National Health and Social Care Professions (HSCP) Unscheduled Care group, the National Clinical Programme for Older Persons (NCPOP) and a member of the Association of Occupational Therapists, Ireland (AOTI). He worked as the Occupational Therapy Manager at Beaumont Hospital between October 2017 and February 2023.
Email: Paul.Maloney5@hse.ie
Kate Brennan
Kate joined the team in November 2021 as Senior Project Manager. Kate initially completed her degree in Maynooth college in Sociology and History and went on to complete a postgrad in Community and Youth work.
Kate brings over 20 years of experience working in the health care sector initially with Family Carers Ireland and for 12 years she worked as Regional Manager with the Alzheimer Society of Ireland covering the Midlands and southeast regions. She worked to increase levels of funding and service provision for dementia-specific home care and daycare service for people living with dementia and their family carers. Kate then worked for over 7 years as a Service Manager with Jigsaw (The National Centre for Youth Mental Health) in Laois/Offaly which delivered early intervention youth mental health services for young people. Kate has also completed further studies with The National College of Ireland and Health Management Institute in Management and employee relations.
Email: kate.brennan2@hse.ie
Dr. Sean O Dowd
Dr. Seán O'Dowd was appointed as Clinical Lead for the National Dementia Office in October. Seán is a Consultant Neurologist at Tallaght University Hospital. His subspecialty interest is neurodegenerative disorders including young- and later-onset dementias, Parkinson's disease and atypical parkinsonian disorders, including Lewy Body dementia. He trained in Ireland and the UK and worked in specialist services in Newcastle-upon-Tyne and Cambridge before commencing a weekly specialist clinic in TUH for these patients in 2017. 
Email: olderpeople.strategy@hse.ie
Dr. Mairéad Bracken Scally
Mairéad joined the office in January 2022 as Senior Project Manager for the implementation of "Appropriate prescribing of psychotropic medication for non-cognitive symptoms in people with dementia" (National Clinical Guideline No. 21). Prior to joining, Mairéad worked for six years in healthcare research and audit with a specific focus on dementia. Most recently she was National Audit Coordinator for the Second Irish National Audit of Dementia care in acute hospitals (INAD-2). Prior to this, she worked as part of the evaluation team of a three-year HSE and Genio-funded dementia programme, based in both community and hospital sites.
Mairéad holds a PhD in Psychology from Maynooth University. Her PhD study explored the quality of life and trauma symptoms of older persons, namely retirees. She has an extensive research portfolio having worked on a variety of research projects since 2008, with a focus on healthcare research and mental health. She has been lead author and co-author on a large number of reports, journal articles, and other publications.
Email: Mairead.Bracken@hse.ie
Fiona Foley
Fiona Foley joined the team in March 2022 as Senior Project Manager "Dementia: Understand Together". Fiona was a business and competence manager in the automotive industry in Germany for 10 years. In Ireland, she then worked with a number of advocacy and health organisations. Most recently with the Alzheimer Society when she was seconded to the Health Service to develop a framework for Dementia Inclusive Communities. Before this, she established the Social Enterprise Siel Bleu, promoting physical activities for older adults and those with chronic diseases. She holds a BA in Business, MA in Management of Health and Non-profit organisations and certificates in Social Enterprise and Corporate Governance. 
Email: fiona.foley1@hse.ie
Sinead O' Reilly
Sinead O'Reilly joined the National Dementia Office in April 2019 as a Project Officer having previously worked in the Nursing & Midwifery, Planning & Development unit for 14 years ( NMPDU). Sinead has been involved in promoting further education and training. Throughout her time in the NMPDU, Sinead assisted in the roll-out of National projects, most notably the Early Warning Score in Acute Hospitals. Sinead holds a Certificate in Project Management.
Email: sinead.oreilly@hse.ie
Emma Johnston
Emma joined our team in September 2023 as a Grade IV Assistant Staff Officer. Emma has a wide range of administrative experience gained from previously worked across various departments in the MRH Tullamore and the Offaly Vaccination Programme.
Email: Emma.johnston@hse.ie
E-mail: Dementia.Office@hse.ie Phone: 057 931 8451
Useful links